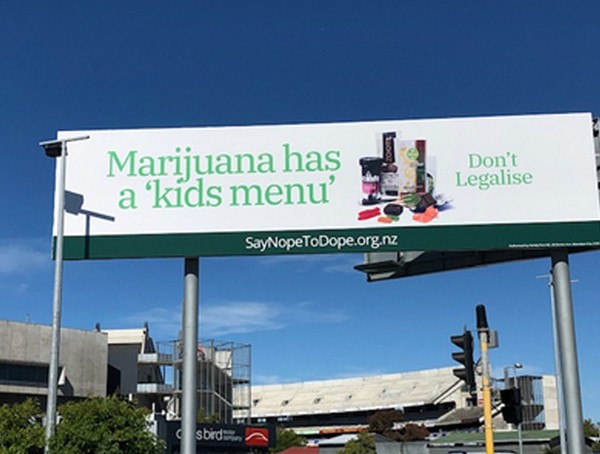 Media Release 13 March 2019
The SayNopeToDope Campaign is welcoming a decision by the Advertising Standards Authority (ASA) not to uphold any of the complaints made against its 'marijuana has a kids menu' billboard.
There were seven complaints about the advertisement, with complainants arguing that the ad was misleading, made unsubstantiated claims and played on fear. But the Complaints Board has rejected those complaints, saying "the advertisement draws the public's attention to some of the different types of cannabis products that might be available for sale in New Zealand, if recreational cannabis is made legal." They said the advertisement "did not contain anything indecent, exploitative or degrading, did not cause fear or distress and was socially responsible."
A separate complaint about the inappropriate use of the word 'marijuana' was also thrown out.
"We believe it is time to end the practice of illustrating all marijuana-related news stories and educational materials with the same overused photos of a marijuana plant and a joint being smoked. The public deserves to be informed about the wide variety of products and THC potencies sold in legal marijuana markets around the world. What is most concerning is that the marijuana industry is targeting young people with child-attractive child-friendly products," says a spokesperson for the SayNopeToDope campaign.
"When people think about 'cannabis', they probably immediately think about a joint. But legalising marijuana will be far more than that. People will be popping it between classes, sucking on it while driving, drinking it before work, chewing on it while they talk to others, and eating it as a dessert. THC concentrate is mixed into almost any type of food or drink. The potency of edibles (several times that of an average joint) and their attractiveness to kids have led to serious problems in legalised states like Colorado. THC-infused products include: coffee, ice-cream, baked goods, lolly-pops, fizzy drinks, water bottles, tea, hot cocoa, breath mints & spray, intimate oils, pills, lollies, chewing gum, marinara sauce, baklava, and many more. These new products can be delivered rectally, nasally, vaginally or squirted into the eye to reach the bloodstream faster and deliver a quicker high."
"The public of New Zealand are not getting this information. Our billboard is designed to raise this inconvenient truth – and to provoke debate and discussion," says a spokesperson for the SayNopeToDope campaign.
The SayNopeToDope Campaign has other billboards in its campaign including "The new face of Big Tobacco", "The Referendum is about legalising recreational cannabis. Medicinal is already legal" and "You can't legalise cannabis and promote mental health".
ENDS