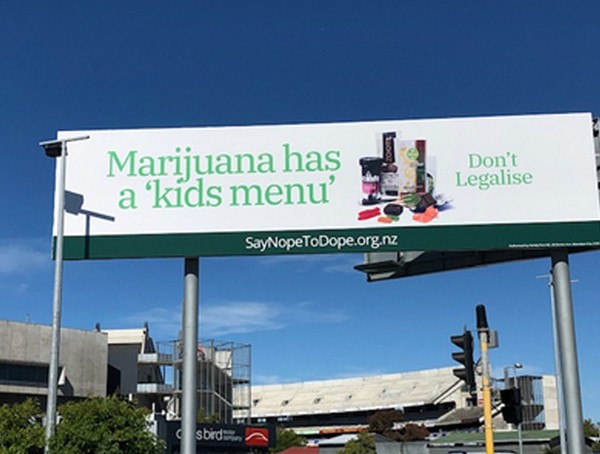 Media Release 10 February 2019
A billboard campaign is warning families and encouraging them to think deeply about the possible legalisation of marijuana, and to vote against the proposal in the 2020 referendum. The first billboard has been put up in Christchurch, with further billboards to be used around the country.
The SayNopeToDope Campaign has also released a 24-page Briefing for Families, and there are also 1-page Briefing Sheets on specific issues.
Topics covered include:
what are the known health harms of marijuana?
why is the referendum much more than just being able to 'smoke a joint'?
the problems with statements like "the war on drugs has failed" and "it's a health issue, not a legal issue"
what effect will legalisation have in the workplace, on road safety, with pregnant mums and young people, on family violence & child abuse, and will it really get rid of the 'black market' and gang involvement?
is growing marijuana 'green'?
what's the next step in this drug agenda?
"Evidence shows that marijuana – which has skyrocketed in average potency over the past decades – is addictive and harmful to the human brain, especially when used by adolescents. In US states that have already legalised the drug, there has been an increase in drugged driving crashes, youth marijuana use, and costs that far outweigh tax revenues from marijuana. These states have seen a black market that continues to thrive, sustained marijuana arrest rates, and tobacco company investment in marijuana. Portugal has seen a rise in the prevalence of alcohol and tobacco consumption and of every illicit psychoactive substance (affected by the weight of cannabis use in those aged 15-74) in the last five years," says a spokesperson for the SayNopeToDope campaign.
"Families simply don't want marijuana plants being grown next door by dope dealers in view of the children, tinnie houses on street corners and pot shops in local shopping areas, an increase in drugged driving, or marijuana being disguised as lollies and edibles as has happened overseas. Colorado, for example, has more marijuana businesses than McDonalds and Starbucks combined."
"Legalising marijuana and the rise of Big Marijuana is the wrong path if we care about public health, public safety, and about our young people. There are too many health risks including the effect of marijuana on cognitive ability, cardiac function and psychosis."
"It remains highly ironic that at the same time as we tear the labelling off cigarette packets, price them out of existence, and ban them from being smoked within breathing space of any living creature, supporters of marijuana are peddling the same myths that we believed for far too long about tobacco – that marijuana is harmless. But of course, a new business market is all very exciting – especially one based on addiction. Could our current mental health services cope? They can't even cope now."
www.SayNopeToDope.org.nz will inform families about the attempts to legalise marijuana, and to help them speak up in the public debate.
ENDS